The final leg of the seven-city Indian edition of GEC Open 2018 was held at the picturesque The LaLiT Golf & Spa Resort in South Goa. Over 40 avid golfers representing a wide array of industries that contribute to the Goan economy came together for a day of competitive golf and networking opportunities.
The tournament was played in Stableford format to select the best Nett score player.
Gokul Saibaba, a 16 handicapper from NEPTA Goa golf course, set the course ablaze as he carded 43 Stableford points to emerge clear winner ahead of second-placed PS Verma at 34 points.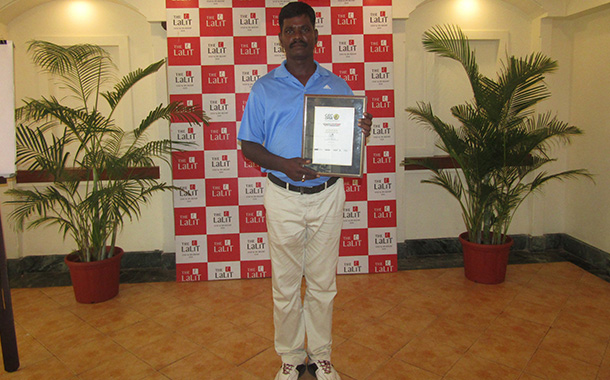 With this win, Gokul has claimed an entry into the world final – Dubai Corporate Golf World Cup to be played in February 2019.
The world finalists enjoy a once-in-a-lifetime opportunity to compete under national colors and ply their craft at two world-class venues in Dubai. Besides this, the winner's package includes return airfare, luxury accommodation, venue transfers, Gala dinners, etc. Dubai Corporate Golf World Cup provides amateur and club golfers with a unique opportunity to experience the thrill and excitement akin to a professional player.
GEC Open 2018 hosted 54 qualifying rounds in 34 countries making it one of the biggest corporate golf tournament all around the world. Engaging over 3700 corporate leaders and industry stakeholders, the GEC Open is a unique blend of sporting excellence and networking opportunities for partners and players alike.
A 36-hole tournament, DCGWC will be played over two days in February next year where national winners from 34 countries will compete to be crowned global champions.
About GEC Open:
GEC Open made its debut in 2014 with just one golf round in Dubai. In 2015 and 2016, the event grew in popularity and was played in six and eight countries respectively connecting over 1100 corporates in the GEC ecosystem. Since then, GEC Open has matured into a global platform for networking, forging everlasting friendships and business relations. The 2017 edition held 29 golf rounds in 18 countries reaching over 2400 corporate leaders under the aegis of 800+ global organizations!
Website: www.gecopen.com