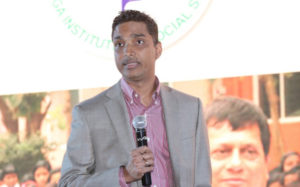 CFA Society Emirates to extend support to the world corporate tour of GEC 2016
GEC Open 2016 Corporate Tour is all set to kick off this August and this time the game just got bigger. Apart from the CSR activities that was bound to the flagship golf tournament, this year GEC Open will be touring 10 countries with some key corporate associations that would be opening windows to a whole new world in business investment and global tie ups.
The UAE would play host to 4 rounds of amazing golf in 2016. The Financial round of GEC Open, which would be staged on 12th November, 2016 at Al Zorah Golf Course, Ajman, is a unique part of GEC Open 2016 tour. It would be a unique platform for the BFSI and Investment honchos to network in a fun filled platform. The role of CFOs have been evolving lately, putting them on the high pedestal of decision making for the enterprises. The financial round will set the right stage for the CFOs to network with the industry and meet a great gathering of leaders from across sectors on a single platform.
CFA Society Emirates has joined hands with GEC Open 2016 to encourage supporters, endorsers and sponsors to take advantage of the additional branding opportunities and to facilitate the exchange of information and opinions among people within the local investment community and beyond.
CFA Society Emirates is affiliated with CFA Institute, which is the preeminent global association of professionals in the field of investment analysis. CFA Institute administers the globally recognized Chartered Financial Analyst Program.
Mr. Tushar Sahoo, MD of Global Enterprise Connect said, "GEC Open materializes as the ideal turf for business, networking, friendship and most importantly— humanity to flourish. CFA Society Emirates´ support to this event further testifies the corporate mission that GEC Open embodies and we are extremely happy to join hands with them."
"CFA Society Emirates is delighted to join hands with GEC in bringing together finance professionals for a fun golf tournament with a charitable purpose." Tarun Khandelwal, CFA.