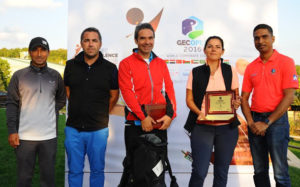 Apart from the exoticness of Turkish tea and the charm of the Turkish evil eye, the land of Turkey can also boast about its talented golfers who display their caliber on the golf course.
This is the second edition of Turkey GEC Open. This year the event was held at the Kemer Golf Club which is made in the parkland style, designed to meet USGA standards. GEC Open is happening in 10 countries this year, taking the golfing spirit to newer vistas. The enthusiasm of players was at its peak with over 60 plus professionals occupying the vast golf course.
The winners of the GEC Open tournament in Turkey were: ERDEM YILMAZTURK, NURSEL COKELEK, EYUP FAHRI ERSIN
Tushar Sahoo, MD, GEC Open said, "It's a wonderful feeling to receive such a positive response for GEC Open Turkey.
Our relationship with Turkey as a host for our golfing activities has strengthened even more and we look forward to having even more players and participants next year also. I'm glad that we have successfully completed our Turkey chapter. Looking forward to other countries as well."