COURSE
Just 35 kilometers west of Bangkok, Nikanti is perhaps Asia's first 18-hole, par-72 course comprising three six-hole layouts, each individual layout consisting of two par threes, two par fours and two par fives. The design allows for starts at three different points on the course in addition to flexibility in number of holes played.
Measuring 6,789 yards from the back tees, Nikanti is certainly challenging even for scratch golfers. Yet whatever a golfer's handicap, everyone will enjoy Nikanti's comprehensive approach to golfing pleasure. All-inclusive rates include: green fee; golf cart with GPS technology; caddie fee; and meals before, during and after each round. Golfers also enjoy unparalleled service and convenience every step of the way. A smooth flow is ensured from moment of arrival, to check-in at the Pro Shop, within spacious and fully equipped changing rooms, at the staging/waiting area, and then on to tee-off for the start of a thoroughly enjoyable round.
VENUE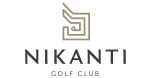 Nikanti Golf Club Fact Sheet
Date of Event : 17th November 2017
Course Hole Detail
REGISTRATION
Re-Kindling the Passion for Sports and Humanity
The region's only Charity Corporate Golfing and Networking Event
"It has become appealingly obvious that our technology has exceeded our humanity"- Albert Einstein.
GEC is all set to put to rest the fears of Einstein. As a leading media& corporate events house we root ourselves to the belief that, we bind the industry together, every day. Whatever we do is a collective and connective initiative towards the betterment of our industry, humanity and society at large because at the end of each business day, we retire as human beings and every morning we wake up to do something special that makes us feel human while being human.
Register & GEC Involved !
At GEC, we aim to conduct business in a socially responsible manner,all the while making a conscious effort to connect to different vertical of business , enterprises and the channel fraternity not just for business and networking but also for the greater good of the humanity at large. We believe that irrespective of the size and scale, sustained efforts have the power to bring a positive change in the world; and we shall be persistent in our endeavour to help the needy, inspire the ones falling short of motivation and spread smiles far and wide. Get Involved & get Register now !!
COUNTRY RULES
In order to represent their company and country at the Dubai Corporate Golf World Cup Grad Final – 2017, which schedule in recently open fantastic world-class, the Championship-style Dubai's most luxurious golf course, Trump International  & World's one of the top 100 and UAE's best Majlis – Emirates Golf course UAE on 13th December & 14th December 2017, the qualified top three players must win the Trumph International Final
 The competition is open to amateur corporate golfers in the Thailand
The competition is a ONE day 18 holes tournament.
The format of the play is Individual Stableford system for amateur players (min. age 18) each having an index handicap between 0 and 24.
Players will play using ¾ of their Index Handicap (Not Course Handicap)
On course prizes will be provided on completion of the round.
One winner from each of the three handicap categories at Thailand round will qualify for the Dubai Corporate Golf World Cup World Final.
The value of prizes will not exceed the limit fixed for players of amateur status.
Disclaimer:
The organisers reserve the right to modify the rules of the competition at any time.
All entrance fees are non-refundable
The Organisers reserve the right to change details described in the event literature. and are not responsible for any liability caused by inclement weather.
Contact Info
Middle East & Africa
City, Country
United Arab Emirates
P: 971 4368 8523