Bulsara prevails at GEC Open Mumbai qualifier
The Mumbai edition of the five-city GEC Open India tour was held at The Willingdon Sports Club on Sunday, November 12th. One of India's oldest and most exclusive golf courses, the par 65 golf course at the Willngdon Sports Club, hosted over 70 top businessmen and industry leaders for a round competitive golf and networking luncheon.
Amidst tough course conditions at GEC Open Mumbai in association with OMA Emirates, Hassanali Bulsara of Bulsara Tours & Travels from Pune carded the best Nett score of the day.  At 36 points playing off a 9, Bulsara emerged victorious with a one-point difference ahead of Prabal Banerjee with 35 points (11 h'cap). Riaz Batliwala grabbed third place with 34 points at 6 handicap.
GEC Open in the association with the OMA Emirates, the prestigious international tournament, is currently in its 4th edition. It is half way through a series of 26 golf rounds in 18 countries engaging over 2400 top corporate and under the aegis of 800+ global organizations.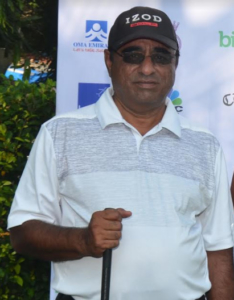 Bulsara will join the Indian contingent of Anmol Puri who qualified from Delhi earlier this month and Naveen Wahi who aced the Bengaluru qualifier. The trio will be joined by winners from Bhubaneswar and Jamshedpur qualifying rounds to compete against world finalists from other participating countries in Dubai Corporate Golf World Cup.
Dubai Corporate Golf World Cup will be played later this year on 13th and 14th of December at two world-class golf courses in Dubai. GEC Open is an initiative to bring leading global organizations and executives on a unified platform; growing the bond and strength of business while working to improve the lives of others through charitable causes.
Bulsara said: "I am really looking forward to competing in Dubai world final and bring the World Cup home along with my teammates. It's a unique and exciting opportunity for me to play under Indian flag and I plan on making the most of it. I am glad to have won today."
The GEC Open in association with OMA Emirates, will now move on to host events in Jamshedpur, Bhubaneswar, Bahrain, Singapore, China and Indonesia to name a few. With humble beginnings in 2014 in just one country, GEC Open has grown into a global platform for networking and a nursery for everlasting friendships and international business relations.
GEC Open brings together leading global organizations and executives on a common platform through golf. GEC works to improve the lives of others through charitable causes while growing the bond & strength of business between corporate leaders.
A special note thanks to our sponsors- OMA Emirates, bizgolf, CNBC, Indigo Airlines, The New Indian Express, Club Mahindra, Callaway India and host venue The Willingdon Sports Club.