Top corporates get together for GEC Open debut in Botswana
The crème-de-la-crème of Botswana corporate leaders and socialites came together to participate in the inaugural edition of GEC Open global golf tour in the country. The coveted event held at Phakalane Golf Estate in Gaborone saw over 50 amateur golfers vying for the podium finish to qualify for the world final.
The qualifying round was played in stableford format in three handicap categories – 0 -9, 10-18 & 18-24. Tumelo Silekane with 40 points, Coram Mushuta (43 pts) and Kate Senye (37 pts) emerged victorious in respective categories to seal their berth at the Dubai Corporate Golf World Cup – the World final and a culmination of GEC Open 2017 tour of 18 countries.
The trio will head Botswana's challenge against winners from 17 other qualifying countries at Dubai Corporate Golf World Cup scheduled at Emirates Golf Club and Abu Dhabi Golf Club over two days in Dubai.
GEC Open is an initiative to bring leading global organizations and executives on a unified platform; growing the bond and strength of business while working to improve the lives of others though charitable causes. With humble beginnings in 2014 in just one country, GEC Open has grown into a global platform for networking and a nursery for everlasting friendships and international business relations. The 2017 edition will see 29 golf rounds played across 18 countries amongst 2400 CXO's under the aegis of 800+ global organisations. With the qualifying rounds are already completed in Ghana, Turkey, Azerbaijan, Nepal and Botswana, the tour will now move on to Dubai, Kenya, Egypt, Thailand, UAE, South Africa, Mauritius, India, Bahrain, Singapore, China, Indonesia to name a few.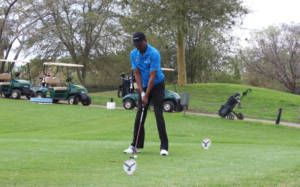 Botswana is one of the fastest growing economy in Africa touted as the key commercial destination for business in Africa. GEC Open serves as a platform for Botswana business community to engage with international businesses and vice versa bringing financial opportunities to the region.
"The qualifying tournament in Botswana was a great success. The participants had a great time, forging new friendships and relationships. The course was in top condition, hospitality was exquisite and hopefully it was one of the memorable events for the golfers as well. They all played superb golf. Congratulations to the winner and we look forward to see them compete at the world final. We will continue to expand this platform and associate GEC Open with more golfers and corporates across the globe.", said Tushar Sahoo, MD, GEC Open.
GEC Open brings together leading global organisations and executives on a common platform through golf. GEC works to improve the lives of others through charitable causes while growing the bond & strength of business between corporate leaders