World's Oldest Civilization Welcomes Gec Open 2016 With Overwhelming Response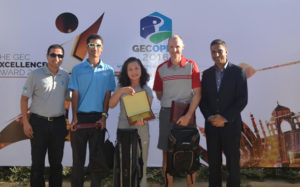 Egypt, the land of Pyramids and Pharaoh, welcomed GEC Open 2016 with open arms as the land shook off the civilization dust and shook hands with one of the most 'modernly' blended corporate event.
GEC Open 2016 Egypt edition reached the Katameya Dunes Golf Course, where over 80 avid and pro golfers (CEOs, CFOs, GMs, Regional Heads)put their best club forward in the qualifying round. After tasting success in the 2014 and 2015 editions, GEC Open is travelling 10 countries this year. Egypt is the fourth destination where the players would be battling for the grand finale to be held in Dubai, UAE on the 14th of December, 2016 after its overwhelming rounds in Ghana, Turkey and Kenya.
The qualifiers of the Egypt edition who will set sail to Dubai for the grand finale are as follows;
Overall Position Score
Jian Ying Wu 36 pts
Glenn Joyce 35 pts
Mark Fearn 34 pts
Honorable Consul General of India in Egypt, Mr ABB Babu graced the occasion as the chief guest and honored the winners of the GEC Excellence Awards 2016.
The GEC Excellence Award 2016 held in conjunction with the golf felicitated the c-level executives of  leading organizations, government and private sector in Egypt who have gone that extra mile in injecting excellence into their organization's corporate models while also benefitting the community and the people at large.
The winners of the GEC Excellence Awards 2016 Egypt are:
| | | |
| --- | --- | --- |
| Sanju Eswarlal Khushalani | Director | Embee International Ind. |
| Gasser Gad El Kareem | Technical Officer | WHO. WHO Representative Office Egypt |
| Khalid Khamis AlMansouri | CIO | Etisalat Misr |
| Dr. Khaled El Khateeb | Director for the Curative and Critical Care Sector | Egyptian Ministry of Health and Population. |
| Ankush Arora | COO | Al Mansour Automotive |