GEC Open makes a grand Azerbaijan debut
Yerlan Duissenbin, Eldar Kerimov and Susan Drummond qualify for Dubai Corporate Golf World Cup
Around 100 top corporates and industry leaders from the Azerbaijan business community were seen in action at the Dreamland Golf Club in Baku on September 9, 2017. In a fun-filled yet competitive setting, GEC Open – a premium corporate golf tournament was hosted for the second time in the region.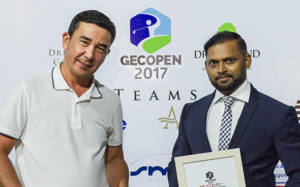 Playing in stableford format, Yerlan Duissenbin carded 42 points, Eldar Kerimov managed 40 and Susan Drummond bagged 39 points to claim victory in their respective handicap classes. The deserving trio will now experience a once-in-a-lifetime opportunity to represent their country in the World Final – Dubai Corporate Golf World Cup 2017. The coveted finale will be held over two days at Trump International Golf Course and Emirates Golf Club on 13th and 14th December amongst national winning teams from 18 countries.
In a mix of business and sports, GEC Open Azerbaijan was concluded with a lavish wine and dine affair forging and strengthening friendships as well as business relations. Azerbaijan is one of the fastest growing economy in South Caucasus region touted as the one of the emerging commercial destination for business in both Asia and Europe. GEC Open serves as a platform for Azerbaijan's business community to engage with international businesses and vice versa bringing financial opportunities to the region.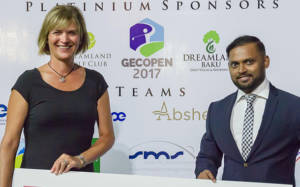 "We are glad to bring the event to a unique and beautiful country of Azerbaijan. Azerbaijan is looking into the future of peace and prosperity. It has no doubt on a fast track to become a key player in the international business community. The high participation Azerbaijan round is a testament to the growing popularity of the game in the region. I congratulate the winners and hope to see them in Dubai. We will continue to expand this platform and associate GEC Open with more golfers and corporates across the globe.", said Tushar Sahoo, MD, GEC Open.
GEC Open brings together leading global organisations and executives on a common platform through golf. GEC works to improve the lives of others through charitable causes while growing the bond & strength of business between corporate leaders.
With humble beginnings in 2014 in just one country, GEC Open has grown into a global platform for networking and a nursery for everlasting friendships and international business relations. The 2017 edition will see 29 golf rounds played across 18 countries amongst 2400 CXO's under the aegis of 800+ global organisations. Following Azerbaijan, qualifying rounds will be held in Nepal, Dubai, Kenya, Botswana, Egypt, Thailand, UAE, South Africa, Mauritius, India, Bahrain, Singapore, China, Indonesia to name a few.